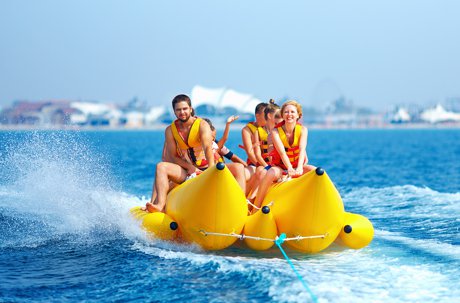 Aquatic adventure awaits off the shores of Myrtle Beach property. Experts in the area of watersport fun, Downwind Sails has been leading the charge on the beach since 1978. Experienced staff members can assist with practically any recreational activity on the water. Novices and those living in Myrtle Beach with know-how can rent paddle boards, sailboats, jet skis, kayaks and more.
Popular quests include jet skiing tours. Local guides are the best at finding aquatic animals to observe such as dolphins, sea turtles, jellyfish and even sharks. Jet skis can accommodate up to three riders making this a great group activity. State of the art sailboats are great vessels for touring the waterways as well. Captains from Downwind Sails easily maneuver the waves ensuring all passengers have a wonderful time. Myrtle Beach property owners and their families love a good banana boat ride. Parasailers often head out to the water on the banana boats viewing sea creatures along the way and then getting airborne with the birds.
Residents Living in Myrtle Beach Sail Away In The Sunset
Lessons are available for folks just jumping in and learning a new sport. Many in the area have mastered the art of surfing and sailboarding with a bit of instruction from Downwind Sails. Reservations for all activities are recommended as many trips sell out quickly. Booking can be done online. Downward Sails is waiting to launch all kinds of excursions, so spend some time exploring Myrtle Beach from the water.